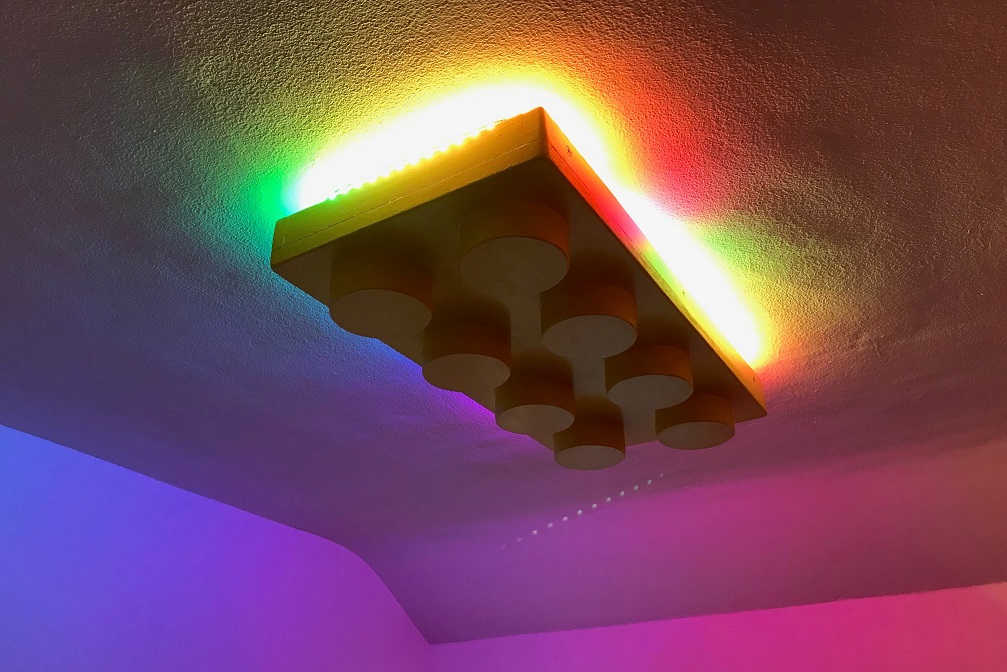 My son is 6 and he's Lego mad, he has an amazing imagination and skill to build the creations. We was redecorating his bedroom and I wallpapered a wall with some paper that looked like Lego bricks. He didn't know what I had planned, I was going to build him a giant piece of Lego in his favourite colour yellow.

We needed to change his light and I had a thought about making the Lego piece to be the light. I started measuring a piece and started looking at some MDF sheet sizes. I found a perfect size and it would fit and be able to scale the Lego piece 19 times.

I first started with the circles and so I cut out 16 so I could double up. I cut the other pieces and started putting it together, I then had to figure out how I would mount it to the ceiling. I came up with an idea so I would have a ventilation gap and have 6 points of securing and I even put a safety strap just in case. I then painted it in a yellow just like the colour of a yellow Lego brick.

I recently controlled some RGB LED's with a Raspberry Pi Zero W and thought he'd love it to change colour. I angled to base edge so that the LED's would angle slightly downward when installed. I connected it all up and I must admit it looked pretty good and so I fitted the Lego piece and waited until he got home from school. I called him up to his bedroom to show him and his little face lit up and his jaw opened wide when I said look up, he kept saying "Wow, how did you do that?". I told him I made it just for him for his love of Lego, when anyone came to our house he had to show it off.

He wanted to control the colours and so I bought a remote controlled RGB strip device and replaced the Raspberry Pi.

He was so happy and that's all that counts.